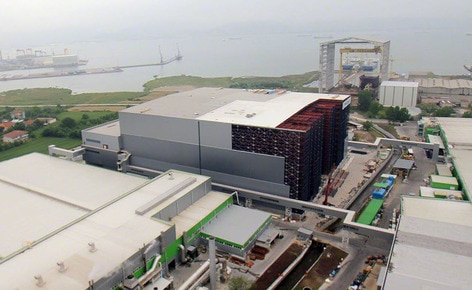 Mecalux builds one of the largest automated clad-rack warehouses in Europe
A global benchmark in automated clad-rack warehouses

Hayat Kimya is a leading manufacturer in the Eurasian fast-moving consumer goods market, specifically in the sector for hygiene and cleaning products. Founded in 1937, with its headquarters in Turkey, the company currently has 5,200 employees and exports to 101 countries. With growth forecast for the coming years, the decision was made to invest in the construction of one of the largest clad-rack warehouses in Europe, with a capacity of 161,000 pallets.
Technical Specifications

Logistics centre in Izmit, Turkey
Length::
120 m
Width::
105 m
Height::
46 m
No. aisles::
15
Aisle width::
1,800 mm
No. stacker cranes::
15 double-cradle stacker cranes (45 m in height)
No. lifts::
12
Electric monorail::
1 km of rails
Conveyors::
1 km circuit
Shuttles::
4
Live picking channels::
17
Warehouse Management Software::
Easy WMS
No. load levels::
24
Height of load levels::
1,750 mm
Capacity per storage space::
3 pallets per space x double deep
Unit load::
Euro pallets of 800 x 1,200 mm weighing 700 kg for detergents and 450 kg for hygiene and disposable tissue products
Total capacity::
161,000 pallets

Download PDF
The Customer's Needs
At Hayat Kimya's production headquarters in Izmit, Turkey, a large industrial facility could be found, covering an area of 357,000 m2, including a warehouse and three production plants: One for detergents, one for hygiene products and one for disposable tissue paper and toilet roll.
Given Hayat's vast increase in production in recent years, in order to satisfy the growing demand in the shortest possible time and with the utmost efficiency, the company was faced with the need to build a new logistics centre that could support this increase in production and speed up the flow of goods in and out of the warehouse.
One of the primary goals that the company set out to achieve was the elimination of the transport between the different sites within the facility, thus ensuring smooth and uninterrupted movement between the production plants and the logistics centre, not to mention the savings in terms of time and money that this would bring. Furthermore, a basic tenet of their plan was to ensure that the new centre was big enough to eliminate the need for external warehouses.
Having laid out their primary objectives, Hayat Kimya entrusted Mecalux with the construction of a warehouse capable of undertaking all of their logistical management and storage, bringing it into a single, automated system: The intake of goods, their storage, order preparation and dispatch were all to make up an integrated final product capable of handling the immense volumes of production.
Mecalux's Proposed Solution
Without a doubt, the sheer size made the project a challenge for Mecalux. The first step was to build a clad-rack warehouse that could meet the customer's needs, with dimensions far exceeding those of a conventional warehouse: 120 m long, 105 m wide and 46 m high. For the structure, given the area's high seismic risk, 10,000 tonnes of steel were used (including 2,000 tonnes of extra seismic reinforcement), and reinforced anchoring. The result was 12,600 m2 with capacity to store 161,000 pallets. If that number of pallets were placed in a line, they would cover a distance of 193.2 km, which gives an idea of the capacity of this warehouse.
The next step was the careful planning of the layout for the new logistics centre, where it was decided to include different levels and areas connected by automated handling equipment:
Silo:
Served by 15 stacker cranes, which place the goods on single and double-deep racking, spanning the full height of the warehouse's 24 levels. The stacker cranes have a joint capacity of 480 combined cycles.
Operations building with four floors:
Ground floor: Goods are received from the detergents plant (2 km away), via an automated unloading system for lorries and 450 m of electric monorails, which move at 100 m/minute and are also used to dispatch pallets. The ground floor dispatch area also has 17 live channels with a capacity of 33 pallets each.
First floor: Offices.
Second floor: Dedicated to picking operations and divided into two areas: One for manual picking with conventional pallet racking, and another for automated picking using live channels served by four shuttles, for products of higher rotation. Goods reach this area via four lifts, which transport them from the third floor. Once the pallet is complete, it is baled, labelled and sent, via two lifts, to the dispatch area on the ground floor, which is served by electric monorails.
Third floor: This is the entrance to the silo from the plants for hygiene and paper products via 450 m of electric monorails.
The production centres and the silo are interconnected by four raised tunnels, fitted with accumulation conveyors and lifts with double load capacity, so pallets can be brought from the three production plants to the logistics centre and positioned on the right level for entry into the warehouse.
Lastly, to allow the whole system to work like clockwork, Mecalux has installed its most advanced control and monitoring technology and its management software Easy WMS, which controls, coordinates and optimises all of the logistics processes at Hayat Kimya, as well as allowing excellent stock control and a real-time inventory.
To summarise, in the words of Umit Ügur, plant manager of Hayat Kimya: "The most important thing in the construction of an automated warehouse is to properly identify and specify at the outset what the needs and expectations are. All processes can thus be designed in the most appropriate manner. The more accurate the initial design, the more efficiency and profit can be obtained from the automated warehouse".
Advantages for the Customer
The construction of a logistics centre carefully adapted to suit their needs, the use of cutting-edge technology in storage systems, the automation of all processes and the implementation of management software Easy WMS have all allowed Hayat Kimya to meet their goals of increasing productivity and improving customer service with the utmost efficiency and at the lowest possible cost.
As Tarik Demiryakan, head of logistics at Hayat Kimya, comments: "At Hayat Kimya we have invested heavily in this warehouse and we are very pleased that we are receiving an immediate return on our investment. We have saved a lot of money by closing external warehouses and by creating a centralised repository that has allowed us to eliminate transport between different locations. Currently, the goods are moved between each process without human handling".
The following are some of the advantages experienced immediately:
Reduction in the time needed for all goods movement operations.
Large increase in the number of movements of goods in and out of storage.
Uninterrupted operation: The system of entry and dispatch of lorries is in operation 24 hours a day, seven days a week, and in peak periods, is capable of handling up to 400 incoming pallets/hour, and 450 outgoing pallets/hour, with an average of 6,500 pallets coming in and 7,000 pallets leaving each day.
Integrated goods receipt, preparation and dispatch processes thanks to the management software Easy WMS. In the words of Celalettin Dizman, director of systems and operations development, "with the help of the Mecalux team, we have implemented most of our functional processes with the WMS. We have a great system that is fully integrated from the start of production to the loading of the lorry".
Logistics centre in Izmit, Turkey
Length::
120 m
Width::
105 m
Height::
46 m
No. aisles::
15
Aisle width::
1,800 mm
No. stacker cranes::
15 double-cradle stacker cranes (45 m in height)
No. lifts::
12
Electric monorail::
1 km of rails
Conveyors::
1 km circuit
Shuttles::
4
Live picking channels::
17
Warehouse Management Software::
Easy WMS
No. load levels::
24
Height of load levels::
1,750 mm
Capacity per storage space::
3 pallets per space x double deep
Unit load::
Euro pallets of 800 x 1,200 mm weighing 700 kg for detergents and 450 kg for hygiene and disposable tissue products
Total capacity::
161,000 pallets