Movirack mobile cantilever racking: Mecalux provides a unique solution to help HepcoMotion continue to grow
25/02/2015
HepcoMotion, a British company and member of the Hepco Group of companies, has recently opened their new storage facility in Tiverton, Devon, to tackle growth in production and reduce order fulfilment times for their clients.
HepcoMotion is a world leader in the field of Linear Motion Technology, with more than 40 years of experience, and a presence in most industrialised countries. The company offers a broad range of products, which they update constantly in order to meet the needs of their customers in automation and general industrial markets, offering all kinds of innovative linear motion solutions.
Due to the pace of growth the company has experienced, in 2014 Hepco has had to address the need to expand their production area and their storage facilities at their headquarters in Tiverton.
The development and implementation of this warehousing project has been entrusted to Mecalux, whose main goals have been to optimise the use of the available space and streamline the order picking process, to make it faster and more efficient. The project also had to take into consideration the specific nature of the product: Profiles of varied lengths.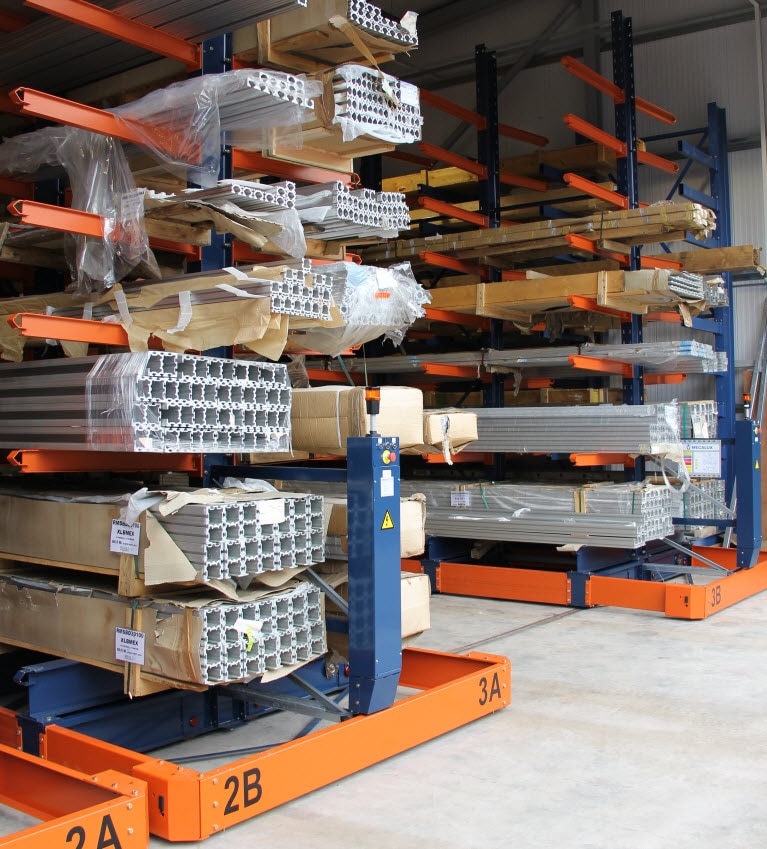 The solution proposed by Mecalux's UK branch (based in Birmingham) was to install cantilever racking on Movirack mobile bases. In total, 9 Moviracks have been installed, in 3 blocks of 3, with interspersed conventional static pallet racking. Each cantilever Movirack is 11 metres long, which means that the full 13.5 metres of width is put to good use in the warehouse.
The main feature of the Movirack system on mobile bases is that the racks move horizontally along rails embedded into the floor, taking up less space by eliminating unnecessary aisles, while maintaining direct access to all of the products in storage.
Therefore, for each of the 3 blocks of 3 Moviracks, 3 working aisles could be eliminated. This is equivalent to space savings of approximately 24 metres in the length of the warehouse, which in turn has resulted in a considerable cost saving in the construction of the new building.
The new warehouse installation built by Mecalux has allowed HepcoMotion to achieve their immediate goals: Optimal warehouse management, efficient use of space, reduced operating costs, faster processing of inbound and outbound goods, optimised placement of products and flows around the warehouse and, as a consequence of all of the above, high productivity.