A reach truck is an electric forklift that moves and performs turning and lifting maneuvers by retracting its mast, which moves it toward the machine's center of gravity.
Thanks to this feature, these have an advantage over counterbalanced forklifts as they weigh less, can operate in narrower maneuvering aisles (±2.68 m unobstructed), and perform better when loading, for example, storage racks.
On the other hand, although the masts and forks are similar to those in counterbalanced forklifts, to deposit or pick up pallets from the racking unit the machine is centered in front of the unit load and the mast moves outwards, which makes maneuvers easier. Some forklifts can lift loads over 10 m. Support devices can be fitted to help with maneuvers at the highest levels.
As a result of all these advantages, reach trucks are currently the most commonly-used machines in warehouses.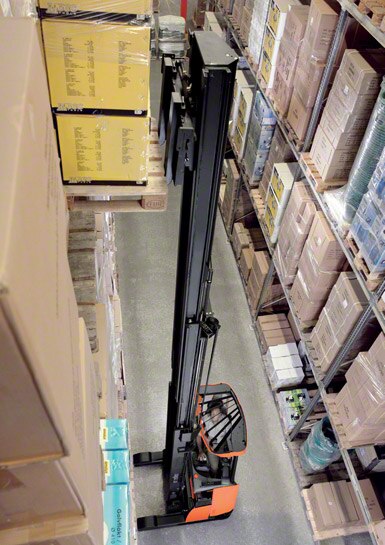 Reach trucks are the most commonly used equipment to work inside warehouses.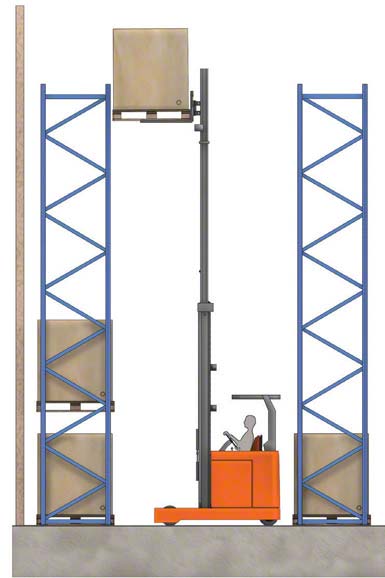 Some forklifts can raise the load above 33' high.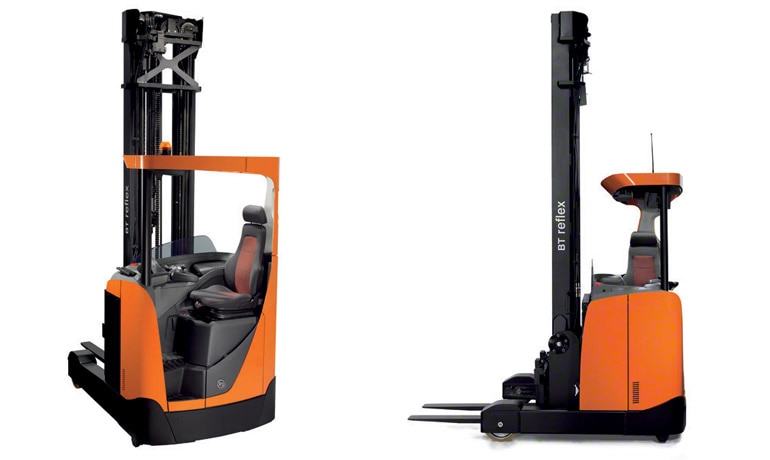 Close ups of various reach trucks. Images provided by Toyota.
Reach trucks have lower beams where the front wheels are housed. Pallets of 9.6 x 14.4 m, which are picked up by the 9.6 m side, fit between the two beams. So, no height should be lost in the racking units.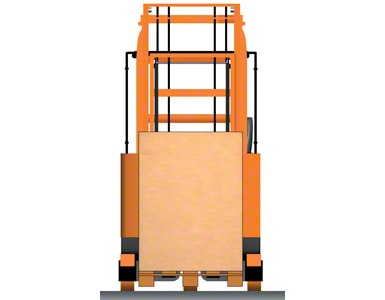 Reach truck with a pallet inside its chassis.
When the pallets are wider or handled by their longer side, they must be transported positioned on top of the wheels. To do this, the options are to have wider aisles, which will not result in a loss of capacity in the racking units, or to increase the margins between the upper part of the pallet on the ground and the first beam of the racking unit (to avoid hitting it), which would mean a loss of height in the location space. All of these factors must be taken into account when planning a warehouse.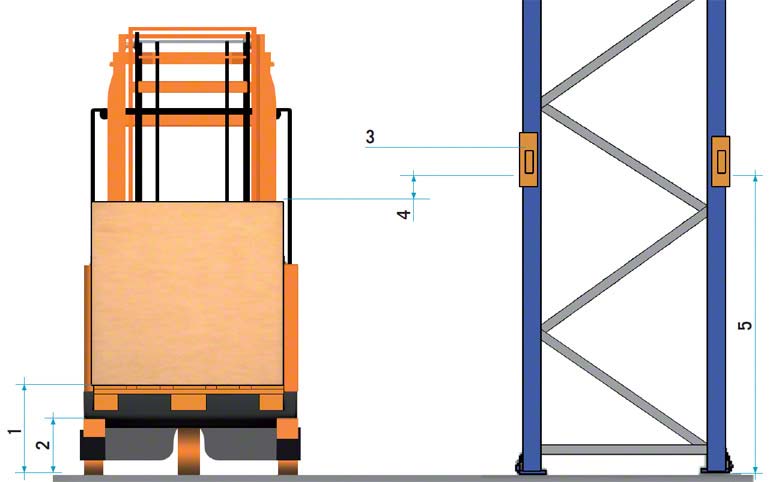 Reach truck with a pallet inside its chassis.
1. Chassis height + 200 mm.
2. Chassis height.
3. First load level.
4. Minimum margin of 50 mm.
5. Pallet height + chassis height + 100 mm minimum margin.
There is a version of the reach truck where the mast remains fixed (does not retract) and the forks extend to the position required to pick up or deposit the load using a system similar to a pantograph.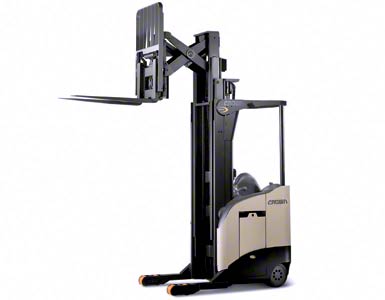 In this piece of equipment, it is the forks that retract. Image provided by Crown.
While these are less often found in warehouses, they too are a valid option and are used in a similar manner to reach forklifts.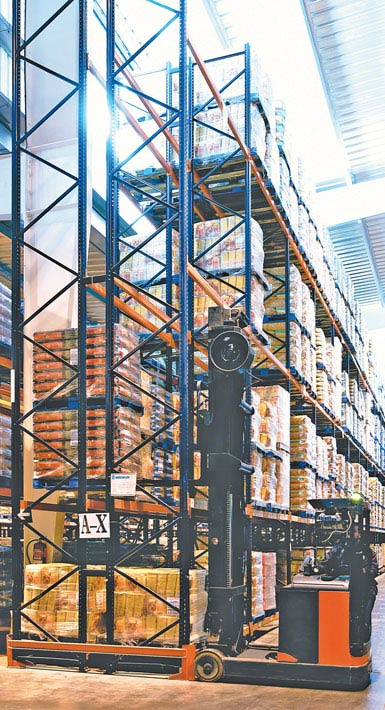 Image of a double-reach truck used in a warehouse for mass-market food products.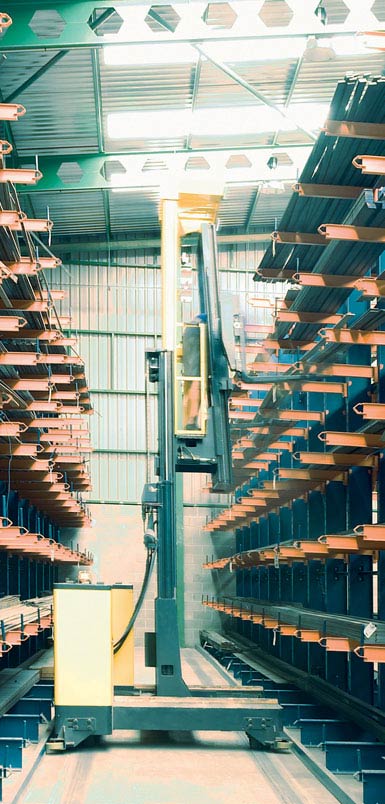 Image of a side-loading reach truck in a warehouse for metal profiles.
Double-reach trucks
Also available in the market are reach trucks that can operate with double-deep racking units. In addition to a moveable mast these models have moveable forks, which make it possible to access the second line of pallets.
Using double-reach trucks can significantly increase storage capacity.
Their disadvantages include loss of accessibility and limitations in terms of the load they can handle and the lifting height they can reach.
Side-loading reach trucks
This is a variation on the conventional reach truck, which has been fitted with a system that allows the wheels to turn 90º. The result is that sideways movement is possible, as well as the standard backward and forward movements. Although they can handle pallets, they are ideal for longer loads such as larger pallets and items, sections, tubes, etc.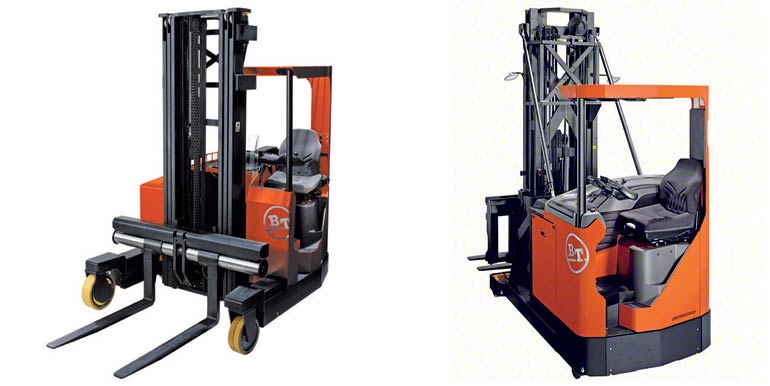 Side-loading reach trucks. (Images provided by Toyota).