Although combined storage systems are rarely used in small warehouses, the larger the warehouse and the more varied the products being handled, the more common it is to mix different options.
The article "Comparing pallet rack capacity", which analyses the different capacities of each system, includes examples of combinations of pallet racks and drive-in racking units and an explanation of the criteria to be used when deciding which configuration to use. However, combinations in medium and large warehouses are not limited to drive-in and pallet racking units. Rather, it is common to mix these with options specifically for picking operations and to use a range of picking options.
Indeed, the combination of storage systems for boxes or loose products, using both person-to-goods and goods-to-person systems, will be increasingly prevalent in the future. Each system is ideal under specific circumstances. The secret is to combine them in the appropriate manner.
In seeking out the best possible solution, the aim is to deal with every product individually, then group them together with others on the basis of turnover (ABC) and the families to which they belong, how orders are prepared, and the size of the products. All of these data can be extracted through an analysis of what is called the article master. With this, one can determine, for example, the advisability or otherwise of establishing separate areas or operations (or both), and therefore whether or not it will be necessary to create an order consolidation area.
The following are examples of combined systems, which give an idea of the (virtually unlimited) possible varieties and configurations.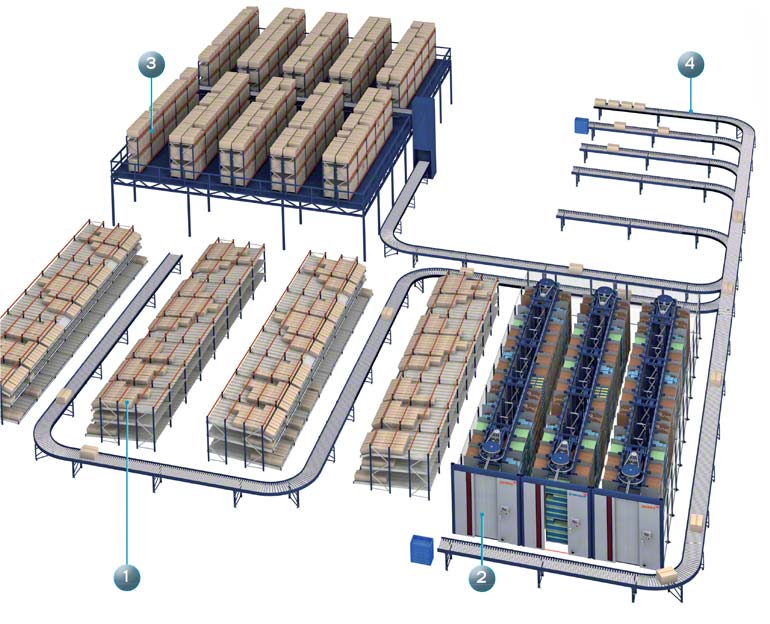 Unit picking.
Example 1. Unit picking
1. Carton flow racks with the pick-to-light system.
2. Horizontal carousels.
3. Classic rack units arranged on a mezzanine.
4. Consolidation area. Where orders prepared in other areas are sent.
This case is also applied to unit picking, but it is simpler than the previous one.
There are four defined areas and operations are managed through a WMS. High consumption products are stored in carton live storage with pick-to-light systems (number 1 in the above image). Medium consumption products are positioned on three horizontal carousels (number 2), while low consumption products are stored in standard rack units positioned on a mezzanine (number 3). The fourth area (number 4) is dedicated to consolidation, and is the area to which orders prepared in other areas are sent.
The different preparation areas are connected to the consolidation area through a system of automated box conveyors. Thanks to this configuration, the area below the mezzanine (which has a conveyor to connect it to the automated conveyor system) is available for depositing the goods ready for dispatch.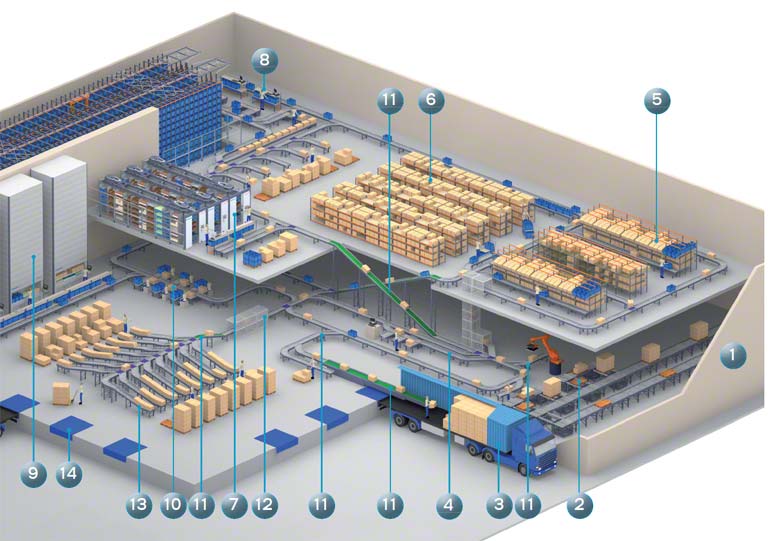 Highly automated unit picking.
Example 2. Highly automated unit picking
1. Entry of pallets, from the general warehouse, through roller and chain conveyors.
2. Manual and automated destacking area with box conveyors.
3. Unloading of maritime containers which transport cardboard boxes without pallets.
4. Verification and quality control.
5. Preparation of orders for high rotation products (A) in carton flow racks, with pick-to-light systems.
6. Preparation of orders for low rotation goods (C), irregularly-shaped products, and unitary boxes. These are classic picking rack units.
7. Horizontal Spinblock carousel for high value A rotation products or B rotation products.
8. Miniload for B and C rotation products, with picking positions in the front of the warehouse.
9. Vertical Clasimat lift modules, combined with multi-order picking tables, for storing small components or products.
10. Consolidation of orders or assembly of components.
11. Roller, belt and band conveyors that connect the different areas and transport the boxes in a totally automated way. The system includes various ramps and a lift.
12. Sealing and identification area.
13. Classification by destinations or routes area.
14. Dispatch area and loading docks.
This type of facility is becoming increasingly common, as it can reduce operating costs.
This is a fully-integrated solution. Each area uses the most appropriate storage, picking and handling system for each product and, as a result, the various operations within the warehouse are as efficient as possible. A fully automated internal conveyor system has been installed that connects the different areas, meaning there is no need for personnel and handling equipment to be involved in this task. Thanks to this conveyor system, orders are automatically classified according to route and destination.
In facilities of such complexity, it is vital to have a suitable warehouse management system (WMS) to control the entire operation.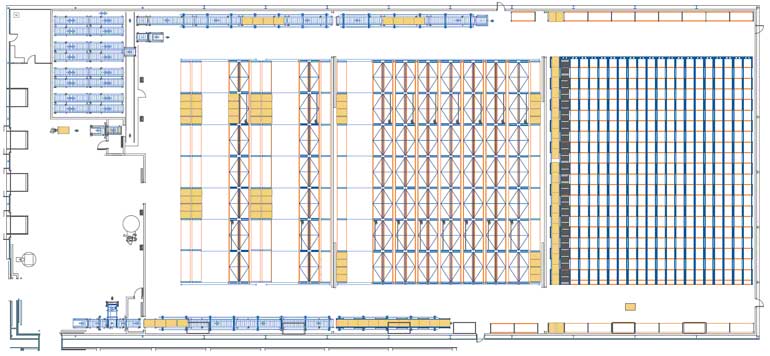 Example 3. Pallet warehouse and Automated warehouses for boxes
In this example, the automated warehouse for boxes is located within a pallet warehouse for medium-sized and large products with many different consumption accessories.
Four areas with different processes have been created for picking. The first is a live pallet racks unit, with the pick-to-light system, for high consumption accessories in complete boxes.
The second area has a carton live storage rack unit with a pick-to-light device, which is used for medium consumption products (whole boxes or loose units).
The third operation takes place on a carton flow racking unit with the pick-to-light system, supplied by an Miniload stacker crane, and is used for high and medium consumption loose accessories.
Finally, there is a conveyor system served by the same miniload, which is used to complete orders with low consumption SKUs.
The entire system works in unison as a single working unit. When orders are launched, grouped into waves, the first task of operators is to prepare full boxes and place them on the conveyors to be taken to the consolidation area. Once this phase has been completed, personnel prepare the loose high and medium consumption accessories and place them in containers. The orders completed in this phase are moved on conveyors to the consolidation area.
Those that have not been completed are sent to an area where the operator can add the missing products to the container. Once the order has been closed, the container will be transported to the consolidation area.
The rest of the warehouse operates as independent areas and the prepared product is consolidated in the loading docks themselves. In addition, the management system can separate and manage all orders and all areas.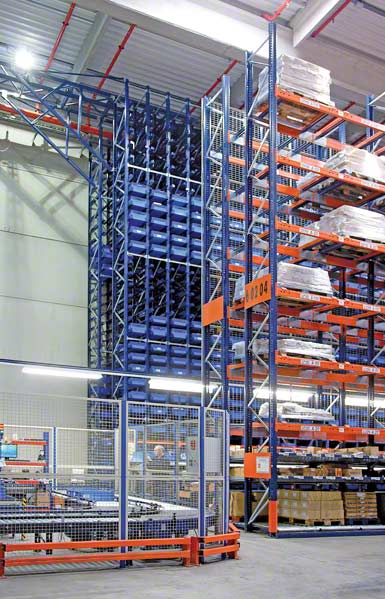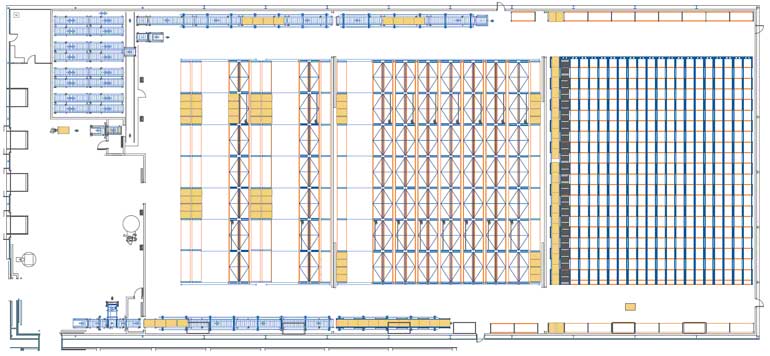 Frozen storage solution.
Example 4. Solution for a frozen storage chamber
This hypothetical warehouse consists of live pallet rack units for high-consumption and high rotation products. There are also pallet rack units on mobile bases used for B and C rotation products (with the lower level used for picking individual boxes).
Other pallet racking units are also used for B and C rotation products but, unlike the previous ones, these are static, since they have been added to make the most of the irregular spaces in the facilities. All of these areas are supported by automated conveyors which, in addition to moving the goods to and from the racking units, act as a buffer for prepared orders, so a group of these has been installed close to the docks.
Orders are prepared using radiofrequency equipment or through a voice picking system. The latter is the most appropriate for a frozen storage installation, as it leaves operators' hands free.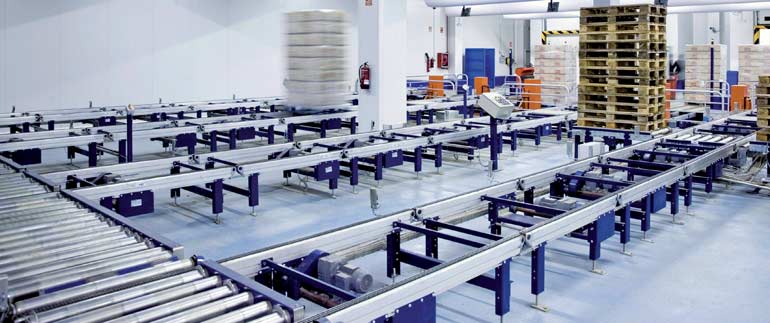 Warehouse for a company producing and distributing pre-baked bread, frozen pastries, and baked products.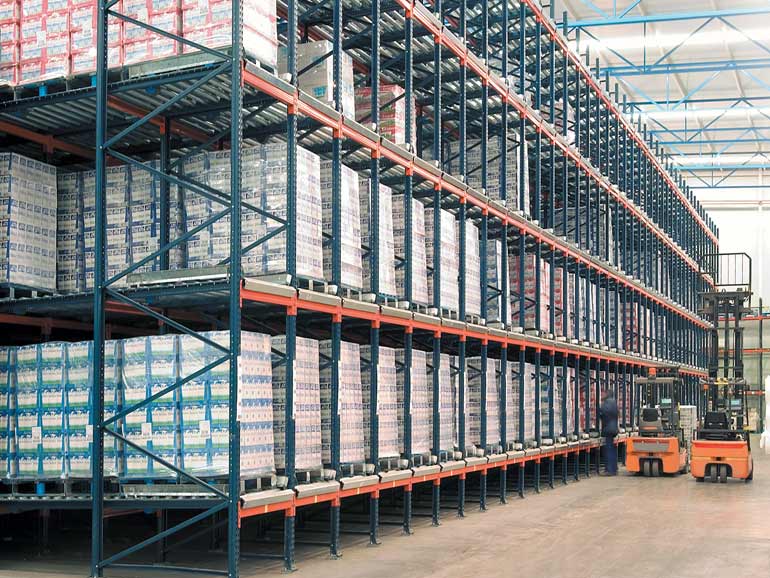 Warehouse for a company in the food sector.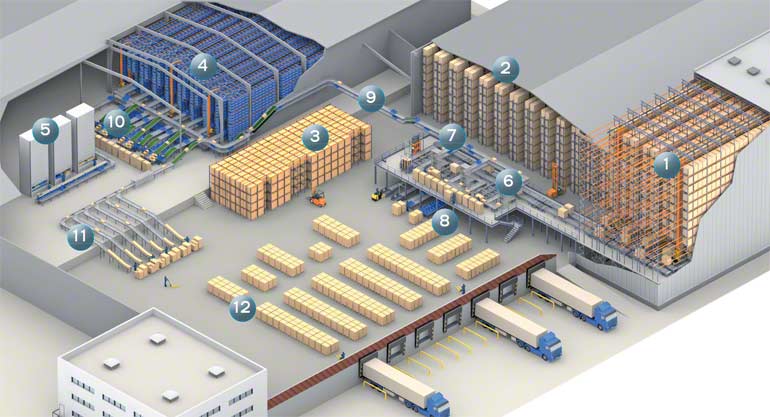 Palletised storage and picking.
Example 5. Palletised storage and picking
1. Automated storage for palletised goods
2. Conventional storage for palletised goods
3. Drive-in storage for palletised goods
4. Picking storage with miniload
5. Vertical Clasimat lift module
6. Area for picking from the automated pallet storage
7. Area for restocking the miniload storage with reserve product
8. Area for restocking the miniload storage from reception area and
connection with the mezzanine
9. Overhead circuit consisting of roller and belt conveyors
10. Order picking positions from the Miniload warehouse
11. Sorter for classifying orders by routes
12. Consolidation area and dispatch docks
Automated warehouses for pallet storage, with four stacker cranes, is used mainly for the reserves of medium consumption and large goods. In the outer area there is a mezzanine with conveyors and stations for preparing orders directly on the pallets themselves. The operator has support tools, above all computer resources and barcode readers, which, in addition to facilitating picking operations, allow goods destined for the automated warehouses for boxes to be replenished.
The conventional storage warehouse for palletized products is used to store low-consumption products of a medium size or irregular dimensions. It uses VNA trucks and high level picker machines to pick goods directly from the rack units.
High consumption products are stored in the drive-in rack units, which are generally sent on full pallets. Reach trucks are used to handle these. The automated warehouse for boxes, with nine miniloads, stores small and medium-sized products in boxes. Three levels of conveyors are used for picking positions: the lower level transfers boxes from the front of each aisle to the various picking positions and to the conveyor which leads to the restocking area; the intermediate level is used for the return and entries of boxes into the warehouse; and the upper level sends the boxes with picked orders to the classification sorter. The use of the three levels avoids interference and helps with the flow of boxes. The picking positions are ergonomically designed to facilitate the picking of the orders and avoid downtime.
Vertical storage is used for delicate or valuable small components.
Product elevators are used to connect the conveyors on the lower part of the mezzanine to those on the upper part, both those for pallets and those for boxes, and can:
- Send pallets from the pallet storage area to the automated storage and the
picking and restocking area.
- Send complete pallets from the automated warehouse for pallets to the dispatch area.
- Restock boxes being sent to the miniload storage with goods from outside and that do not need a reserve.
The circuit of overhead roller and band conveyors on two levels connects the two automated storage areas and transports prepared orders to the classification sorter. The prepared orders coming from the sorter are consolidated, by routes, with those from standard storage and the full pallets from automated storage, directly in the lanes positioned in front of the dispatch docks.
Electric and manual pallet trucks are used to transport pallets in the reception and dispatch area.